Guardian Series – Black/Black
394.99CAD
The Guardian Series is our signature gaming chair series which offers an array of premium features.
– Steel frame construction
– High-density foam
– 3 directional cushioned armrest
– Height and backrest adjustment
– Tilt tension adjustment
– Included neck and lumbar pillows
Packaging Dimensions: 88x73x38 cm
Weight: 26 kg
Free Shipping within Canada and USA.
Estimated shipping time: 5 to 7 business days
Includes 10 years manufacturer's warranty
Customer Reviews
11/20/2019
Matt K.
Canada
Why didn't I buy this sooner?!
I just received my PulseLabz Guardian (Black/Black) today. It took me about 15 minutes to put it together and I don't want to leave it now! I bought this through a 3rd party (the Best place to Buy electronics) and I could not be happier. I have had several chairs though the years, both office style and gaming style and this is by far the best of the bunch. I am 6'4" and 240lbs and I don't feel too big or too small for this chair. Seat pan is wide and comfortable. Plenty adjustable to fit my preferred seating position. The 4D armrests are a dream! Very attractive chair. If you even think you are in the market for a new chair - get this one NOW! You won't regret it. Note: I upgraded to the rollerblade style wheels and they are so smooth I feel like I am gliding not rolling! DEFINITELY worth that upgrade!
11/17/2019
Shepherd G.
United States (US)
Best gaming chair ever
Big, tall or medium, I love these Chairs. Pulselabz has something special here and gives a feel of a mom and pop joint making great experiences for everyone. Highly recommended.
11/04/2019
Jonathan P.
Canada
Great but not perfect
(sorry for bad english not my 1st language). First I have only good words to say about the online support who they helped me making the right model choice and gave me a great discount aswell. The shipping has been made very quickly and I received my chair few days later but I have a little complaint about that. They never told me the item was sent and never had a tracking number. On their site it was only saying Item is being process.(since the day I have made the purchase) So one day I came back from work and the chair was in it boxe in front of my door. Anybody could have stop by during the day and leave with my 300$+ chair. So you guys should give us a tracking number so we'd be able to manage the receiving. Then lets talk about the assembling. The small plan in the box lacks alot of details concerning the assembling process. I had to find video on youtube to be able to do it properly. Quality and confort: I took the Guardian to get more adjustabilities because I like my seat to be locked in tilted position but you can only have 3 different positions. (flat, a very small tilt, then a bit more tilted) Be awaare thant you cant tilt it in a customized angle of your choice. To finish with the seat, it is confortable but a little bit hard for my tastes (It might get softer with the utilisation) The back and the arm rest are great and adjustable in every way you like. The 2 cushion for the neck and lombar are too big so your neck is bended up front. But this is not a problem since you have a ziper on the back of it that you can open and take out some of the stuff outside of it to make it the perfect size for you. So all in all after 1-2 months of utilisation I feel confortable on it and can play games for few consecutive hours. The look is good too. I took the black one because it is more sober and does not look too juvenile. And the price tag was way lower than their biggest competition (the other Lab company "S_c__t Lab" ) Hope it's gonna help you to make the right choice. All in all I am happy with the purchase and if my comments can help Pulselabz to make some adjustements they will be flawless.
10/29/2019
Shawn M.
Canada
Sturdy and durrable
Ive had this chair for about 2-3 weeks now. The chair is very well built and definitely made with top quality products. For the price is definitely a good chair. Reason i gave it an average mark is because of one three issues. One, the lumbar support is hard as a rock and not very comfortable at all, in fact, i removed and don't even use it which is definitely a sham. Secondly, the chair is balanced evenly so if put too much weight on the front of the chair when standing up the chair will fall towards you, and this has happened a few times for me. So they need to extends the wheel arms out way more to help prevent that. Lastly, the shipping was a little delayed, i felt there could have been alot more communication from the company on the details of my shipment, i was not provided a shipping tracking number. I had to contact Pulselabz to get a general idea of when and long for shipment through Facebook messenger. Would a reccomend the product, i would because its a solid quality chair for the price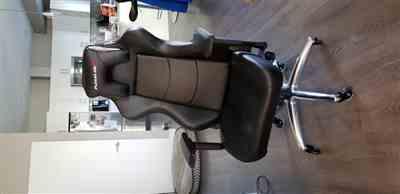 10/05/2019
Junior G.
Canada
Great chair
Love the quality i can sit for hours pain free
Description